Getting Around
Taxi
Taxi services to explore outside the City, are based on a fixed tariff. Remember: It's always better to enquire and agree on a fare before you enter a taxi.  Always available at Castille Square in Valletta, or you can always call a private cab….. http://ecabs.com.mt/
If you are looking for a cab service inside the City  a system of electric cabs is in operation within.
The traditional Maltese buses have always been a major tourist attraction on the island, due to their unique appearance grounded in the bus ownership and operation model employed on Malta.  The unique nature of the Malta bus stemmed from the tradition of local ownership of the buses by the drivers, and their historic practice of customising them.
These however have been replaced with more comfortable buses. If you are interested in visiting other localities in Malta, outside City Gate, Malta Public Transport has quite an efficient service.
Bus 133 is a circular bus route that zips half-hourly around Valletta's city walls, calling at Castille, Marsamxett, and Floriana.  As well as being a good way to get around, this route offers some great views.
If you are interested in visiting other localities in Malta, outside City Gate Malta Public Transport has quite an efficient service.
Read More
Walk
Explore at your pace all the riches that can be found in the city streets.  When you feel you need a rest head to Upper Barracca Gardens that are perched on top of Valletta's towering bastion walls boasting superb panoramic views of the Grand Harbour.
Karozzin Ride
A very unique and romantic way to experience Valletta city sites, is for sure a Karozzin ride. Do a bit of sightseeing the different way: the carriage shall take you down the famous locations and narrow streets and the driver might supply you with information on the tour.
The prices are different, depends on the season, but of course you need to do a little bit of negotiations before you step on the ride.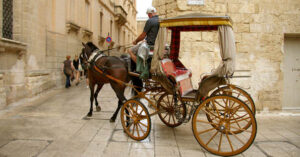 Car or Motorcycle
If you're driving, parking is limited within the city walls, but not impossible – look for a space that's not demarcated by green or blue lines; otherwise there's a big underground car park just outside the City Gate in Floriana. Valletta is eminently walkable so you don't need a car to get around.
A ferry operates daily (unless it's bad weather) and crosses over from Marsamxett Harbour in Valletta to Sliema, and another ferry directed to the 3 Cities.
Convenient if you want a quick crossover and want to avoid traffic.
Check schedules on http://www.vallettaferryservices.com/
Read More
Taxify is a ride hailing application which is operated through your smartphone. Simple choose a car that fits your style and budget, then set your location to request a ride. Afterwards watch your driver arrive on the map. Following the trip you can rate your driver and pay for the trip automatically through the app.
Download iOS app from here.
Get it on Google Play here.
Read More
Greenr is a 24/7 cab service which makes exclusive use of electric vehicles. Greenr cab service operates all over Malta including from the Malta International Airport. Malta airport transfers and all other bookings can now be made online within a few seconds. The driver immediately receives your booking and gets your precise address. This will ensure that your Malta cab arrives on time. Even for last minute cab bookings.
As well as being an ecological friendly company, the passengers will have access to fast WiFi internet access. Want to put some music on? No worries, plug in your phone and listen to your own music.
Read More